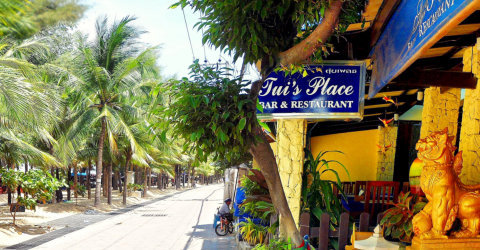 © 1997-2014. Tui's Place Guest House, Bar & Restaurant.
All rights reserved.




Welcome...
...to the only gay guest house/gay B&B located right-
on Jomtien beach, also known to locals as Dongtan
beach; Pattaya's exclusive gay beach here in
Thailand. We are Tui's Place Guest House, Bar &
Restaurant and we offer you a unique place to come
stay and relax, where you can enjoy our comfortable
place on the gay beach. We have some of the
cheapest room rates anywhere, especially when
considering that the gay beach is less than a 30-
second walk to your room.
Guests can enjoy using the private swimming pool
here too, and as our guest; you are welcome to use
this facility to relax during the day, in relative peace
and quiet.
Come unwind - any time, while savouring our great
choice of local and western food; so you can return
home refreshed, with nothing but the fondest of
memories - courtesy of the warm, genuine
hospitality you will receive from the friendly Thai
locals here - in Jomtien and Pattaya.

Now into our 17th
year...
...you are very welcome to
come see why so many of our
guests return as friends to
enjoy the peace and
tranquillity that ensues from
being the only gay guest
house on Pattaya's gay beach.
During the day Tui's Place can
be busy but at night quiet
apart from the sound of surf
crashing upon the shore. Our
part of Jomtien beach; known
to locals here as Dongtan
beach, stretches-on for 800-
meters when turning right at
the end of Thap Phraya Road
(7/Eleven and Police Station). It
is planted with pine and palm
trees, which bring lots of
welcome shade from the sun.
There is cheap, safe and
continuous return
transportation from our guest
house to downtown Pattaya,
24-hours-a-day. Journey time
is less than 15-minutes, for a
cost of 10 Thai baht.
Thank you very much then for
visiting our website today. We
hope you find what you are
looking for and trust you will
come visit Tui's Place in person
- one day soon.

Guest House
There are 6-rooms but only 4 of those rooms are
prepared each day to accept guests.
Current room inventory is:
•

3 × Sea view rooms and
•

1 × Condotel view room
...available on four floors.
Depending on demand and time of year, room rates
do vary. Returning guests though always receive
discounted rates.
Bar
Our bar opens at 9 o'clock every morning, to serve
our guests both non-alcoholic and alcoholic
beverages. Location aside we have reliable, free
high-speed Internet for your use, which means Tui's
Place is one of the coolest places to come "people
watch" and enjoy a coffee or a cocktail relaxing with
friends, or even with "new friends" you will surely
meet, along the gay beach.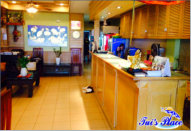 Restaurant
As you may have guessed - being in Thailand means
we have a large choice of sumptuous Thai dishes to
prepare and share, cooked fresh for your
enjoyment. We have many Western style surprises
for your palate too.
Food orders are available on the beach as well, so
please ask the boys who take care of you there, to
give you our menu.